The Bourn to Run 2024 date is set: SUNDAY 15TH SEPTEMBER 2024! More info to follow in the new year!
Cambridgeshire's premier trail-running event
Now in its 15th Year, Bourn to Run offers a balance of both family friendly and competitive professional trail running routes.
Organised by the community and for the community; Bourn To Run provides vital funds for Bourn Primary Academy.
We are generously supported by local business, and the event is the biggest in the school's fundraising calendar, bringing new computers, equipment, and games to the children of Bourn Primary Academy.
The varied and challenging 10km course race can test even the most experienced runners. Whilst the 3km fun run around the village of Bourn is a much gentler event, attracting fitness enthusiasts and fun runners.
With a range of fun activities for all the family in the finishers' area, as well as great coffee, cake and our BBQ to tempt you. 
Whether you're cheering on others or taking part, the carnival atmosphere is enough to keep everyone amused!
What you can expect at Bourn To Run 2023
As well as the 10km and 3km races, the village has come together to create an event where there is something for everyone. 
For the first time there will be a raffle on the day with the following brilliant prizes:
Local companies will also provide a range of stalls to test your creativity and coordination including:
Cambridge Country Club (who will be offering a prize draw for a 6-month family membership)
Joel Rickard's pop-up putting green  
face painting 
biscuit decorating
henna 
beat the goalie.
As well as an ice cream van and BBQ, with meat provided by Knibb Meat Safe.
Over the last 15 years, the annual 10km and fun run events have gone from strength to strength, raising more than £87,000 for school projects and the local community
Thank you to our 2023 Sponsors
We are very fortunate to have the wonderful support of local businesses again in 2023. For the second year running Bourn Quarter is our headline sponsor and we also enjoy the backing of the companies below. Read more about them on our sponsors page.
If you are interested in sponsoring future events, it's never too early to get in touch with us.
feedback from our runners
"Excellent race and well organised. I really enjoyed this race thought the course was a very nice balance. Fed up of boring flat courses. A good mixture of different surfaces. Excellent volunteers and will definitely return next year."
"My first 10k run, would recommend it, and will be there next year. Very well organised, great atmosphere. " ​
"Very well organised. This is an excellent local 10k race, running mostly off road on farm tracks and concrete footpaths. It was very well organised. The course is interesting with the first 5k uphill."
"Great race, well organised and gave me a personal best for 10K. Quite undulating, but I enjoyed the rural scenery. A nice local race for Cambridgeshire. "
AN EVENT FOR THE COMMUNITY, ORGANISED BY THE COMMUNITY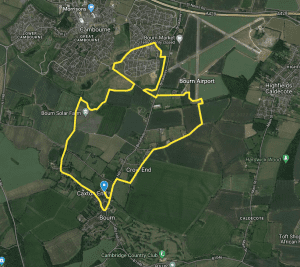 The Bourn to Run course is a multi-terrain route that includes some moderate hills, stretches of roads and country lanes, as well as footpaths, nature reserves, meadows and even fields of sheep! Please note it can get muddy or rocky depending on weather conditions. Be prepared for uneven ground.
Thank you to land owners and the Wildlife Trust for Bedfordshire, Cambridgeshire and Northamptonshire for providing the necessary access for the race.